"My mission in life is not merely to survive but to thrive and to do so with some passion,
some compassion, some humor, and some style." ~ Maya Angelou
Thank you for taking the time to visit!
I look forward to working with you.
Laura regularly prays for her clients! She loves hearing from past clients with updates. Each of you is an important part of the mystical threads that connects us all together.
If you have a special request or would like to have Laura as a guest on your podcast or virtual event project — please contact us. Remember to include the important who-what-where-when-why & details about yourself and your credentials. 
Nothing says thank you like referring your family & friends!
Laura spent 20+ years as a paying subscriber on
the Olson Best Psychic Mediums list &
Best Psychic Directory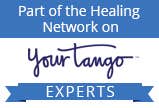 and maintains professional memberships
in IONs, CHI and more. 
"I have decided to stick with love.  Hate is too great a burden to bear." ~ M.L.K., Jr.